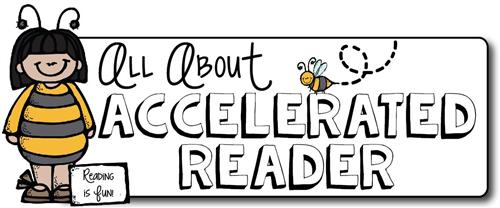 Lake Marie Elementary School is proud to announce the arrival of Accelerated Reader! Accelerated reader is a comprehension and vocabulary based computer program that tests the children's knowledge of books read.
Your child takes weekly trips to the library with their class. The books in the library are labeled and ready for the AR program and for your child's use. We have all the tools for your child to successfully use the program. Please encourage them to read 20-30 minutes each night. All children in 2nd-6th grade are required to participate in the Accelerated Reader Program. Kindergarten and first grade students participate upon teachers request. To begin, each child will be given the STAR independent reading assessment. Levels given to your child are based upon each student's independent level results from this assessment. As she or he gains strides, levels of text will increase. Each book is a tool to find material suitable for their academic needs. Below are further details about the program and how your child can gain incentives for books they read.
-Students will take their reading level test (to receive their ZPD). If the child does not finish the test in time, they are not ready for the AR program. If they finish the test, they will receive their reading range (ex: 2.3-2.9). After they receive their reading range, they will be able to check out books and start AR. They will take their reading level test during the beginning of Session 1. (Schedule to the right) They are encouraged to read as many books as they can per session. Once they finish a book, they take a quiz and receive a score. Once the session is over, all their scores are added up and divided by the number of tests they take and they receive an average score. Their goal is to have an average of 85% or higher.
Incentives for testing:
-score 85% or higher and stay there = receive an apple with their name. They earn an apple for each test with a score of 85% or higher.
-During recess or lunch (at the end of each session), students who remained on the wall as an apple will receive incentives during their lunch/recess hour.
Ex: popcorn, Popsicle.. etc.
-and last but not least, students who stay as apples on the wall all year are entered in the end of the year raffle for a big prize (depends on how much box top money we get, so please remind your classes to bring in those box tops!!! J)
-score 70%- 84% = Receive a leaf with their name. They earn a leaf for each test with a score of 70% - 84%.
-Every time a student receives 100% on a test, they get a prize from my treasure box.
Quizzes/Testing
-AR testing will be during computer time, library time, recess or lunch, before and after school.
-recess/lunch recess time (walk-ins, first come first serve)
If your student has books at home that they want to read, feel free to visit the website to see if the book is an AR book.
(link on the right)